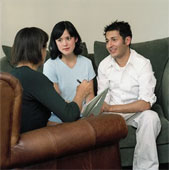 The role of a psychologist
Consultation with a clinical psychologist involves:
Discussing the issues of concern for the client
Assessing the client's emotional, intellectual and behavioural functioning
Exploring the thoughts, emotions and behaviour of the client and tracing their origins
Helping the client develop effective ways of controlling and coping with these difficulties
Helping the client to implement changes that enhance wellbeing and awareness, and alleviate the presenting problems.
Sessions are usually up to one hour in length, but assessment sessions may be longer. The number of sessions required will vary and is usually negotiated between the clinical psychologist and the client.
Skills and competencies of clinical psychologists
Clinical psychologists have skills in the following areas.
Psychological assessment and diagnosis
Clinical psychologists have specialist training in the assessment and diagnosis of the major mental illnesses and psychological problems. Through their specialist training, clinical psychologists are qualified to provide expert opinion in clinical, compensation, educational and legal jurisdictions. Some clinical psychologists also specialise in particular types of assessment such as neuropsychological, forensic and educational assessment.
Qualifications and registrationt
Clinical psychologists have completed a minimum of six years full-time university training, which includes postgraduate study in a recognised clinical psychology training program, a substantial research thesis, and supervised practice in health and mental health settings.
All psychologists are legally required to be registered with the Psychologist Registration Board in their State or Territory, and, as of July 2010, the Psychology Board of Australia. This is to ensure that they meet specified standards of competence and ethical practice.
In addition, psychologists follow strict guidelines for professional conduct that cover client privacy and confidentiality. Ethical codes are set and monitored by the APS and have been developed to safeguard the welfare of recipients of psychological services and the integrity of the psychology profession.